這是多麼神奇的工具 : 您可以將轉換 PDF 到 AutoCAD
pdf2cad 可以轉換 PDF 檔案到 AutoCAD 等軟體可用的 DXF、dwg 檔案格式。
pdf2cad是 CAD / CAM / CNC環境下匯入PDF向量圖的最佳選取。
裝置製造商和經銷商為了保密,給客戶的技術檔案往往把 CAD 圖紙轉換為 PDF 檔案,使您只能看,不能改。
有了pdf2cad 你可以輕鬆把 PDF 檔案中 CAD 圖紙轉換出來。
pdf2cad 9.0 是最新版本,比原版本在功能上和轉換精確度有很大提高。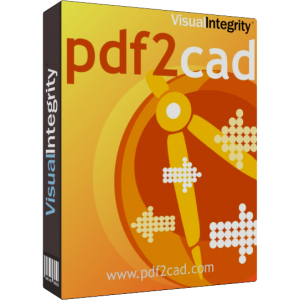 New v9.0 with DWG Output!
Enjoy new editing possibilities with pdf2cad. With just a few clicks, you'll get an accurate drawing that saves you hours of redraw time. It can be easily modified as DWG, DXF or HPGL in popular engineering programs such as AutoCAD, TurboCAD and MicroStation.
pdf2cad is ideal for converting CAD drawings as well as floor-plans, network diagrams and organization charts. It extracts all CAD entities, objects and text. It can extract layers, merge pages and more! pdf2cad is an essential tool if you store or receive drawings
in the Adobe PDF file format. Buy the Windows version below or click Pricing for more options.
Features in pdf2cad
Convert PDF files into standard CAD interchange formats, DXF and HPGL
Convert one file or multiple files using the built in batch mode
Convert all pages or specify a page rage
Intelligent object recognition
Concatenates characters to form editable words and lines of text
Cropping
Add white space to page
Rotate output by any degree
Option to ignore text, images or paths during conversion
Map fonts for high fidelity file match
Scale page to match original dimensions of file
Specify minimum line width
Separates layers in CAD drawing based on color or other definitions
Dashed/dotted lines as segments
Saves all images as referenced file in DXF format
Command-line version and Windows DLL available for developers
Expanded support for non-standard fonts
Option to remove or outline hatches/fills
Improved reporting on errors and warnings
Streamlined interface for faster and easier conversions
官方網站:
http://visual-integrity.com/products/pdf2cad/
轉換 PDF 到 AutoCAD 軟體 pdf2cad 9.0 版下載 :
http://visual-integrity.com/?p=1646