onOne Perfect Photo Suite 6.1.0 【Adobe Photoshop 外掛程式合集】

onOne Perfect Photo Suite 6是 onOne 所推出的 Adobe Photoshop 外掛程式合集最新版本,包括 onOne 軟體公司的七款專業級產品。
onOne 軟體公司為專業攝影師和平面設計師提供世界一流的軟體解決專案。
onOne Perfect Photo Suite 6.1 產品所含內容:
Perfect Portrait 1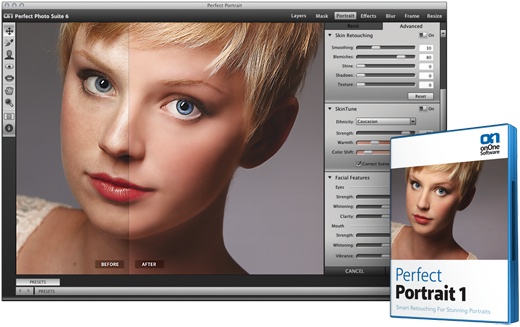 Perfect Portrait 1 全新的產品需要出修飾的奧秘,為減少瑕疵及加強眼睛,嘴唇和牙齒的合適的工具,自動臉部和功能檢驗,增強實力的總控制,可作為一個獨立的應用程式或直接與 Lightroom,Aperture 或 Photoshop無縫整合到您的工作流程。

Perfect Layers 2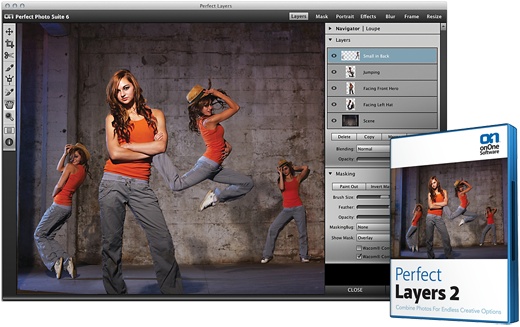 Perfect Layers是快速簡便的方法來建立分層檔案用Photoshop Lightroom 或 Apple Aperture。憑藉完善的圖層可以建立和編輯多層次 Photoshop檔案直接從 Photoshop Lightroom和 Apple Aperture,或從任何應用程式用它來結合圖像。用它來改變的天空,複合多張圖片一起修飾肖像使用內建的混合模式。我們非常高興能為您提供強大的分層功能,無縫整合到您的攝影工作流程。
Focal Point 2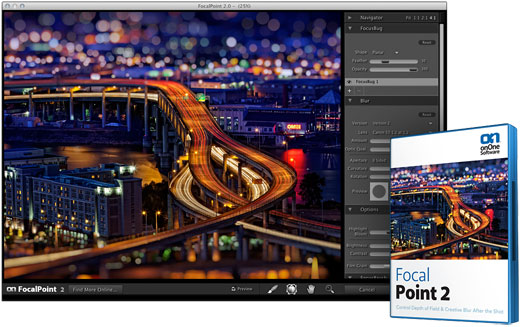 FocalPoint 是Photoshop 柔化景深濾鏡,Photoshop 焦點控制外掛程式。攝影當中有時候想要進行選取性的聚焦,有許多技術可以實現這一點,比如說平面的重點,或是對局部進行模糊處理等等。最常見的方法是控制景深,在相機上採用大口徑的鏡頭,調節出一個狹長的景深來,也可以實現焦點控制。而在Photoshop 平面處理當中則需要採用更多的技巧來實現。現在這個外掛程式FocalPoint 就能說明你輕鬆實現這個目的。
Perfect Effects 3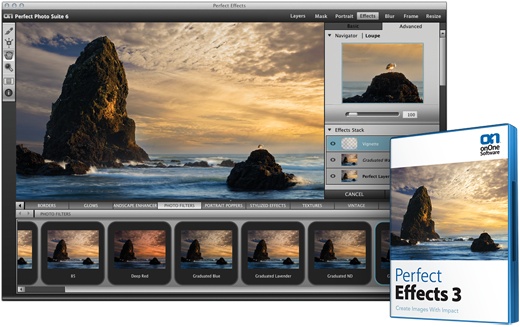 Perfect Effects 3 使用Photoshop Actions 來處理一系列圖像工具,內含圖像效果、修改及產生自動化操作等。 Perfect Effects 3 容許使用者分別預覽效果,或是在類似一個分層的結構下堆疊,同時可以儲存將來要使用的預先設定。新的實時預覽也顯示全螢幕,所以你可以看到在其最好的形象。你一定會喜歡能夠輕鬆地堆疊多個效果,共同創造自己的獨特的外觀。
現在,Perfect Effects 3 它無縫整合到您的工作流程,您是否使用Lightroom,Aperture 或 Photoshop,Photoshop不再需要.甚至作為一個獨立的應用程式。
Photo Frame 4.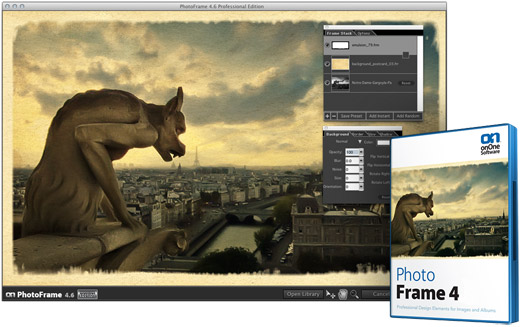 PhotoFrame 4 可作為外掛程式安裝於Adobe Photoshop Lightroom 軟體中,軟體的特色是幫攝影師將拍攝作品通過畫框更完美的展示,PhotoFrame 4 增加了更多的畫框及裝飾物的向量圖。軟體內建獨特的畫框邊緣效果,內含普通木質畫框效果、花邊、裝飾物及紋理效果等。該軟體提供的數以百計的新畫框對婚禮攝影師更是大有說明。
Perfect Mask 5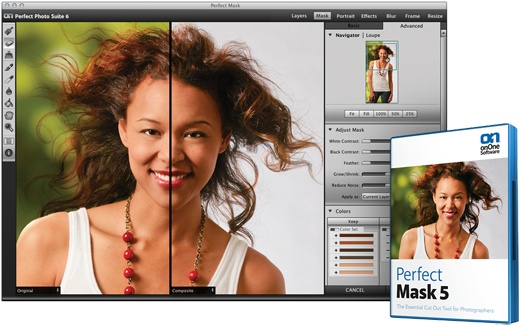 Perfect Mask 5 是一款精準的去背解決專案,可以說是目前最專業的去背軟體之一,具體功能有:讓你的去背效果可以達到最佳化,精準的遮罩功能,智慧筆刷以及魔術棒,無限的Undo/Redo 功能;另外在MaskPro之中還有提供相當多的工具如魔術筆刷以及路徑工具,所以你不用擔心因為工具過少作不出好的遮罩來將影像去背,因為這些工具再加上先前所提到的選色工具絕對可以幫你作出完美的遮罩,讓你的作品達到專業的水準。
Perfect Resize 7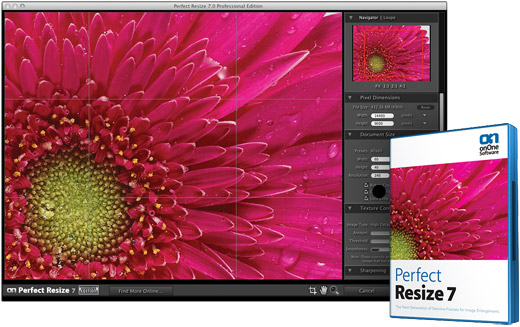 Perfect Resize 7 是一款影像縮放的工業標準,是攝影師、繪畫藝術家和數位圖像專業人士的必備工具,該程式可以說明你建立和列印超高品質的拉近圖像,最大可達1000%,並保持線條和細節不失真。不僅支援RGB 圖像,也支援CMYK 和CIE-Lab 圖像。
本版本可適用於Adobe Photoshop Lightroom 或Apple Aperture。
————————————————————–
Perfect Photo Suite 6, the dramatic new version of onOne Software's award winning product suite offers the best new tools for solving the most common problems faced by photographers today. This major upgrade introduces completely new products Perfect Portrait and Perfect Effects, Perfect Mask, the next generation of Mask Pro, Perfect Layers, in addition to favorites Perfect Resize, FocalPoint and PhotoFrame. And now, you can move effortlessly between applications, for a smoother and faster workflow.
As your workflows have changed, so have our products. All of the products in the Perfect Photo Suite 6 now work directly from Lightroom and Aperture, in addition to Photoshop, and they can even be used on their own.
Perfect Photo Suite 6 continues to work as a plug-in for Adobe Photoshop and now also as a completely standalone application. This additional functionality means that all products in the Suite can be used together within Adobe Lightroom without relying on a separate host application as was previously required. Perfect Photo Suite 6 will continue to include full support for Photoshop CS5 and CS4 with many of the products now functioning as Smart Filters.
Perfect Effects 3 builds on the popularity of PhotoTools to provide a faster and more powerful way to create images with impact. Perfect Effects includes a complete library of professional photographic effects that can be previewed, live and full screen, on an image before being applied. Perfect Effects now includes more manual control and blending options that provide even more control over how effects are combined and applied.
Perfect Portrait 1 is a completely new product that offers the latest innovations in portrait retouching for photographers. Photographers can now focus on the art of portrait creation because the most time consuming retouching tasks have been automated in Perfect Portrait. Perfect Portrait automatically finds faces, eyes and mouths in images so that photographers can get directly to the work of retouching and enhancing an image. Improving skin texture and color, removing blemishes and enhancing features like eyes, lips and teeth have never been easier.
Perfect Layers 2 allows photographers to combine photos for endless creative options. Create and edit multi-layered files with Perfect Layers directly from Lightroom, or as a standalone application. Perfect Layers files are saved in the PSD file format and can be edited in Photoshop and Photoshop Elements later. Perfect Layers is the heart of the new Perfect Photo Suite
6.
Perfect Mask 5 is the next generation of Mask Pro, the leading software for background replacement. Perfect Mask takes the core strengths of Mask Pro to another level, by automating many common masking tasks with incredible accuracy. Perfect Mask's new masking technology makes selecting subjects and isolating backgrounds surprisingly easy. With Automatic Background Removal, an initial mask is made on the image and can then be fine-tuned using the Erase and Refine Tools. With these new features, high quality masks can be created in just a few clicks. Perfect Mask makes masking tough subjects like hair and glass on complex backgrounds easy.
Perfect Resize 7 powered by Genuine Fractals, is the industry standard for image resizing. It is renowned across the photographic and printing industries for its ability to increase image size well over 1000% without the loss of sharpness or detail that is normally expected. The patented, fractal based interpolation algorithms work like nothing else and the results speak for themselves.
PhotoFrame 4 — Add the perfect finishing touch to images and layouts with PhotoFrame 4.6. With over one thousand design elements like film edges, borders, textures, backgrounds and adornments, PhotoFrame even has complete layouts where users can simply drop an image in and they are done. It is the easiest and fastest way to add an authentic darkroom touch with a film edge or to create beautiful albums or scrapbook pages.
FocalPoint 2 — Like bringing the camera lens inside the computer, FocalPoint 2 gives photographers the best way to add the most realistic depth of field and selective focus control to any image after it is photographed. Photographers now have an incredible flexibility and control over the look of the blur with FocalPoint's new blur algorithm, FocusBrush, Lens Presets and multiple FocusBug features.
NEW! Integrated Modules
– Now Perfect Photo Suite 6 users can move effortlessly between applications rather than having to open and close individual applications. For instance, you can start with retouching a portrait in Perfect Portrait, and then move directly to Perfect Effects to add a creative effect or photographic filter and then move to Perfect Resize to resize and prepare your image for print. Just click the module at in the Suite menu bar to move from one to the other.
– All products now work as standalone applications
What's new in Perfect Photo Suite 6.1:
Updated Raw library, now supports the following additional cameras:
*ARRIRAW format, *Canon PowerShot S95, *Canon EOS 600D / Digital Rebel T3i / Kiss Digital X5,
*Canon EOS 1100D / Digital Rebel T3 / Kiss Digital X50, *Casio EX-Z1080,
*Fuji FinePix HS20EXR, *Fuji FinePix F550EXR, *Fuji FinePix X100,
*Leaf AFi-II 5, *Leaf AFi-II 6, *Leaf AFi-II 7, *Leaf AFi-II 8, *Leaf AFi-II 10, *Leaf AFi-II 10R, *Leaf AFi-II 12, *Leaf AFi-II 12R, *Leica D-LUX5, *Leica V-LUX2,
*Nikon D5100, *Olympus E-P3, *Olympus E-PL1s, *Olympus E-PL2, *Olympus XZ-1,
*Panasonic DMC-G2, *Panasonic DMC-GF2, *Panasonic DMC-GF3, *Panasonic DMC-GH2, *Samsung NX11,
*Samsung NX100, *Sony DSLR-A230, *Sony DSLR-A290, *Sony DSLR-A390, *Sony DSLR-A580, *Sony NEX-C3, *Sony SLT-A35
* Added support for Lightroom 4
* New Getting Started dialog
* Added access to the onOne Marketplace
* You can change the size of the thumbnail in the matrix browser mode
* Improved performance when starting, applying Photoshop plug-in
* Aperture version now supports exporting 8-bit version
* Refine brush quality improved
* Magic Brush quality, performance improved
* Added color spill brush
* Numerous pen tool improvements
* Added performance preference
Perfect Effects
* Preview now displays correctly when the target layer is not 100% normal
* Added thumbnail of mask the layer stack
* Borders now scale non-proportionally to fit images better
* You can change the size of the thumbnail in the matrix browser mode
Perfect Portrait
* Can now find smaller faces
* Loading presets is faster
* Launch speed is improved
* Changing Face Size pop-up is faster
* Uses less memory
Perfect Mask
* Refine brush quality improved
* Magic Brush quality, performance improved
* Added color spill brush
* Numerous pen tool improvements
Perfect Resize
* Gallery wrap with color option now works correctly in standalone
* Scaling down through the Perfect Photo Suite now works
———————————————————-
【Adobe Photoshop 外掛程式合集】onOne Perfect Photo Suite 6.1.0官方網站: